Course Update
Craig's Course Update
---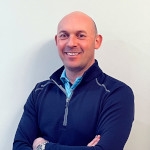 Stuart Smith
Head PGA Professional Ranfurly Castle Golf Club
After a dry but cold 10 days, the past 4-5 days we have received another 92mm rainfall with 52mm being in one 24-hour period. This volume of rain has again highlighted several isolated drainage problems around the course. Last week we installed a new pipe across our 8th fairway which carries a colossal amount of water coming from the 9th,10, and 11th holes. Unfortunately, we still have water coming to the surface from somewhere in this area but we hope to find this issue and solve the problem as soon as we can.
This week we have installed some AstroTurf at the 12th bridge, which is a temporary fix for the 2021 season. Part of the 2021/22 winter program will see us plan to renew the original bridge but also construct a new bridge further down to divert traffic and to help relieve wear and tear in the one area.
As we fast approach our first medal of the year this Saturday, from Friday afternoon we will be bringing in the blue stakes and moving markers back onto our main tees as we move away from the winter course for the morning of Saturday 3rd April. Please remember it's April, the temperatures are to drop below zero next week, so we still have very little growth around the course. I ask you to always replace divots and be cautious navigating your way around.
The 1st and 5th greens will be coming back into play on Saturday morning; I am pleased with the progress since the turf has been laid, however, we will monitor the greens going forward until they are fully established and then adjust the mowing heights so they are brought down to same as the remaining greens. I ask you again please be cautious walking across the greens and try to avoid standing on the turfed drain lines.
As we still have little growth, over the next couple of weeks we will be concentrating on tying up some small winter projects, edging and toping up paths with fresh whin dust. We will also be moving our attention to the bunkers by de-stoning as much as we possibly can, moving the sand around to try and give us some consistent depth with edging too where needed. Weather dependent we will also be spraying fairways with ferrous sulphate and ammonium sulphate, this will help to weaken the moss encourage some growth prior to scarifying.
As we go round setting up the course in the morning it is still evident that pitch marks remain a big concern going into the start of the season. Please remember to repair your own pitch mark and any others that you see on the green(S).
Thank you in advance for your consideration of the above points and good luck with your first medal round!
Craig Drummond