Lesson Update
Online Lesson Booking System
---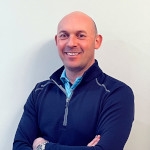 To help facilitate the provision of an online means for the booking of golf lessons, I'll soon be launching my Online Lesson Booking System from Foremost. The system will be very straightforward to use and will provide anyone with the option to view my availability for lessons and to schedule and pay for sessions from the convenience of your home on your desktop/laptop or mobile device.
The video link above provides a simple tutorial on how to use the system once live, which is scheduled for the end of the month.
There will be more updates on the launch of the system in next week's e-newsletter so keep your eyes peeled.