Course Update
Course Update
---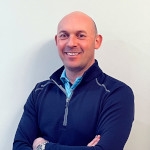 Stuart Smith
Head PGA Professional Ranfurly Castle Golf Club
On the course at Castle this week Craig and his team have been focusing on greens maintenance, including verti–draining, scarifying and top dressing.
Our greens receive more traffic than any other playing surface on the course. Along with all the other maintenance carried out and reduced aeration over the past year, there is a lot of surface tension on the turf. A great saying in the industry is, "let us help the surfaces breath" and with this, the measures that are being undertaken will help facilitate this.
Verti-draining is a deep aeration procedure that involves inserting large solid tines deep into the surface of the ground around 6-10 inches, to provide such benefits as:
Allowing oxygen into the soil and roots beneath the green
Aiding deeper rooting, to create a healthier putting surface
The relief of compaction
Aiding drainage and nutrient incorporation
Scarifying removes thatch and tidies up unwanted lateral growth - the benefits of such are:
Encouraged healthy growth
Maintenance of the appearance of greens throughout playing season
Improved surface penetration by water and enhancement of airflow around the plant which minimises the potential for disease.
Topdressing is the application of sand across the entire green.
There are many reasons for applying topdressing - to increase surface levels, to dilute thatch, to stimulate new root and shoot growth and to improve smoothness and trueness of the surface.
It may seem like there are more holes than grass on the greens right after they have been aerated, but this is an illusion as aeration effects less than 10% of the surfaces. All greens surfaces will have a granular fertiliser application to aid recovery.
This practice creates a very short-term disruption to players' games, but with a long-term aeration program the benefits greatly outweigh the inconvenience.
As we are nearing the start of the growing season, Craig will be looking at finishing some drainage work on the 8th and 13th next week, along with preparing our tees through realigning, mowing and divoting.
Unfortunately due to the weather, the plan to drain our 18th green as had to be shelved for now, so we will now be rolling, mowing and top dressing both the 1st and 5th greens to bring them back into play in April.
The Club also have a new employee joining Craig's team... We welcome Callum Black as our new apprentice greenkeeper, so please be kind enough to say hello to Callum if you see him out on the course and give him a warm welcome.